The best choice on tap
The best choice on tap
Tap water is one of the best choices you can make for your health, your wallet, and the environment.
It's important to drink water to replace fluids lost from your body through everyday functions and perspiration. Water helps keep you hydrated, improving physical and mental health and helping prevent kidney stones, constipation and urinary tract infection.
One of the easiest, most cost-effective and environmentally-friendly ways to build this healthy habit is by using your own reusable bottle and drinking safe, clean water straight from the tap.
Drinking water fountains
Our customers have told us they want more drinking fountains in public places, and we've responded.
With a growing network of drinking water fountains across the state, we are helping build a healthy habit by encouraging people to drink more tap water and refill their reusable bottles.
Designed, tested and manufactured in Australia, our drinking water fountains all deliver tap water and feature a modern design, with a 'water window' to fill your bottle. Many also feature a foot pedal-operated in-ground dog bowl which lowers and fills with water for single use, ensuring adequate drainage and clean water every time. Our fountains have built-in solar lighting making them bright and easy to find at night.
Find a fountain with our BYOB app
Our BYOB app lets you search for nearby drinking fountains and bottle filling stations wherever you are in South Australia. Whether you need a quick drink, to fill your reusable bottle, or quench your dog's thirst, this fountain finder app will get you there with clear directions. There's already close to 1,000 mapped drinking fountains and you can add more. You can also give a star rating so everyone can see the highly rated fountains and when the rating is low, we can contact councils and let them know their drinking water fountain may need some love.
Download the BYOB app for Google devices
Download the BYOB app for Apple devices
If your local council would like a drinking water fountain, please give us a call on 08 7424 1433 or send us an email at communityrelations@sawater.com.au.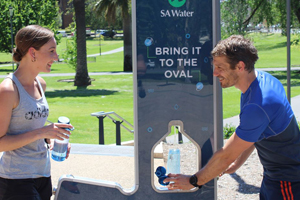 Bring Your Own Bottle (BYOB)
Our BYOB program helps us all work towards eliminating single-use plastics from South Australia and builds the healthy habit of drinking tap water.
One of the easiest, most cost-effective and environmentally friendly ways is by using your own reusable bottle and drinking safe, clean water, straight from the tap.
Around 370 million single-use plastic water bottles make their way to landfill each year across Australia. Single-use plastic bottles impact the environment when they are made, with each one litre bottle taking up to 250ml of crude oil and three litres of water to manufacture. Single-use plastic bottles then continue their impact on the environment long after the drink they held has been consumed, taking up to 1,000 years to break down.
We're pretty good recyclers in South Australia, but with only 65.8 per cent of PET bottles sold last year being returned for recycling, there's still a huge number of plastic bottles making their way to landfill or the natural environment.
Major faults

Underway




Darebin St

Mile End

16/01/2020

Water Supply On

16/01/2020 01:17 PM - We are attending to an incident in Mile End with no interruption to the water supply. The safety of our crews and customers comes first, and we always aim to minimise inconvenience by restoring services as quickly as we can. Reference Number WO: 07265949.